Live in Western Australia
Set against a backdrop of gorgeous, preserved environments and with a booming economy, beautiful beaches and world-class wineries, Western Australia has emerged as a hotspot for migrants over the last decade. The State offers great job opportunities in the booming mining industry and great lifestyle options in a warm, tropical climate – ideal for anyone looking for a climate change or a boost in their salary packet.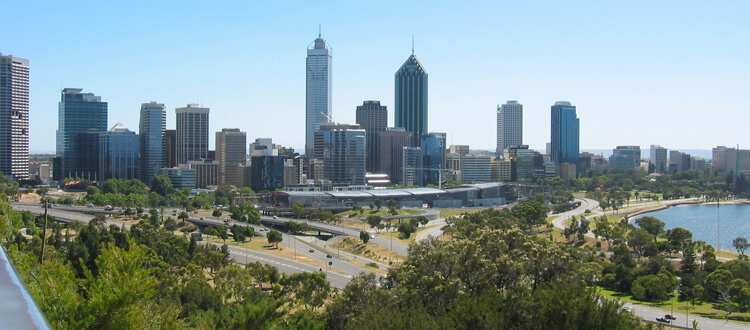 Perth
Wa's Capital
Wineries
The climate in Western Australia changes from area to area, making the State perfect for a number of different wines. You can explore these wineries with ease and sample some of the finest food and drink in the country by visiting Vasse Felix in the Margaret River region, Sandalford in the Swan Valley, Voyager Estate, Watershed and many more.
Coastline
There are plenty of beaches to find in Western Australia for surfers of all skill levels. The Salomon Masters is a world class surfing competition in the Margaret River region with Surfer's Point a notable favourite. Other beaches to explore along this fantastic coastline are Middleton Beach, Lucky Bay, Cottesloe Beach and Windsurfer's Beach.
Outback
WA's outback offers a number of sights and locations to visit but if you are looking to really take in this area, one of the most popular ways is on a light plane through the Kimberley Aerial Highway, where you can access the Horizontal Falls at Talbot Bay and a number of National Parks such as Prince Regent, Mitchell River, Tunnel Creek and more. You should also look out for the fossilised reef at Windjanna Gorge National Park and Wave Rock.
Western Australia Attractions
one of the world's great wine producing regions
Margaret River
The Margaret River region is home to some of the finest wines in the country as well as world-class cheese and hand-made chocolates. With an estimated 500,000 visitors annually, the Margaret River region is a popular tourist attraction and if you are a wine or food lover it's not to be missed.
A work - life balance
Western Australia is an adventurer's dream, so when you're not working you can explore the outback, the amazing beaches and surfing opportunities and the vibrant city of Perth. From the Salomon Masters surfing competition to the wines of the Margaret River region and the fantastic cuisine from Perth restaurants like Friends Restaurant, Opus Restaurant and the Tuck Shop Café, there's plenty to keep you busy.
Are you eligible? Take the free test
Education
6-16yrs
Education is compulsory for everyone between the ages of 6 and 16
Education is available from 5 through to 19
Perth has four universities to choose from for local and national residents, which are the University of Western Australia, Curtin University, Edith Cowan University and Murdoch University. All have specific disciplines although all are linked to the Royal Perth Hospital for medicine and health related courses. The University of Western Australia is one of the country's leading research institutes.
Health
$40 - $80
Ambulance Victoria Membership cover all ambulance service costs throughout Australia
Royal Perth Hospital is the largest in Western Australia. It has links to a number of hospitals throughout the State, allowing patients to receive the right treatment and care wherever they are. The Royal Flying Doctor Service also operates in parts of Western Australia, providing access to services and treatment to patients in remote areas of the State.
Western Australia Attractions
home to iconic landscapes & outback
The Kimberleys
You won't find a greater wilderness experience than the Kimberleys. As one of the least-densely populated areas in the world, it's the perfect retreat from the hustle and bustle of city life. With wildlife sanctuaries and beautiful scenery that gives a full view of natural life in Australia, time spent here will never be forgotten.
Living
$2,700
monthly rental price for a two bedroom house
The cost of living in Western Australia can be very reasonable if you research the areas you are interested in first. Living in the State's capital, Perth, will likely have higher costs than other areas of the State but it is also worth remembering that those in the mining and construction industries receive very good wages and this can drive the cost of living in areas near these sites up.
Employment
$1,150
Average Gross
weekly earnings
38
Average Hours
worked Weekly
Western Australia has large mining, agriculture and construction industries that offer excellent salaries to those with the right skills. The mining industry has grown substantially in the last decade and it's this area that has seen one of the biggest influxes of migrants from the UK and all over the world.