Live in New South Wales
With a thriving economy, great beaches and up to 300 days of sunshine a year, it's hard to find a reason why someone wouldn't want to move to New South Wales. The State's capital Sydney is full of hip, trendy restaurants and bars which adorn both the city centre and the famous Sydney Harbour. As the country's financial and economic capital the city also offers great career opportunities and strong salaries to match the high standard of living throughout the State.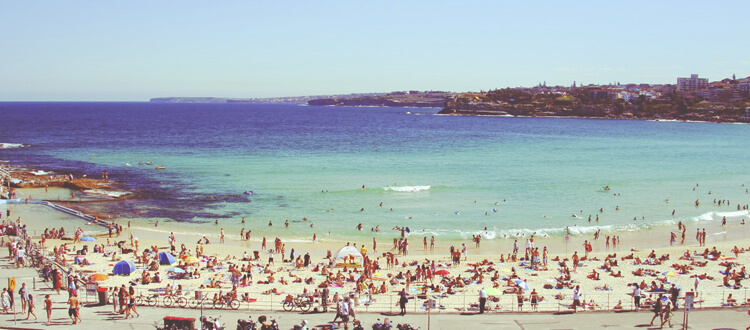 Sydney
Bondi Beach
Beaches
New South Wales has some of the best beaches in the world, with almost 900 to choose from. Many of the beaches are included in Australia's National Surfing Reserves, including Merewether Beach, one of Newcastle's most iconic surfing points. The most popular is Byron Bay and on any day of the week you'll find it full of surfers trying to catch that perfect wave.
Dining
There are a wide range of dining options across New South Wales, however the region is known for its strong Asian influences. China Doll is a very popular restaurant in the centre of Sydney with Asian and Asian fusion specialities. For something more Australian visit Est, one of the State's most popular eateries. Serving locally sourced food, this is a great way to experience Australian cuisine at its finest.
Cafe Culture
There's a very strong café culture in New South Wales, with Sydney taking the lead with some excellent cafes and establishments. Favourites include The Fine Food Store, Twenty 8 Acres and Workshop Espresso, all offer fantastic coffee and hot drinks and snacks to help you get through the day or unwind after work.
New South Wales Attractions
breathtaking scenery and views
Blue Mountains
Approximately 100km north-west of Sydney you will find the Blue Mountains, and this area is one of New South Wales' natural wonders. The area is densely populated with oil bearing Eucalyptus trees and when this oil is combined with dust and water vapour, the result is the scattering of short-wave length rays of light. Most of these are blue – hence the name "Blue Mountains".
A work - life balance
You won't be short of things to do in Sydney. The city has a number of attractions and features including museums, art galleries and the famous Sydney Opera House to name a few. Once you have finished work for the day, you can embrace the café culture at some of the finest establishments in the country, head to the beach or find your favourite place to unwind and relax.
Are you eligible? Take the free test
Education
6–17yrs
Education is compulsory for everyone between the ages of 6 and 17
As with most States in Australia, New South Wales has a number of primary and secondary schooling options with both public and private institutes available. There are 11 universities in New South Wales with the University of Sydney currently the largest and highest ranking university in the State. This was also the first university opened in Australia.
Health
$40 - $80
Ambulance Victoria Membership cover all ambulance service costs throughout Australia
There are a wide range of hospitals and healthcare services in New South Wales, with Sydney Hospital being one of the most important in the State and country. It is the oldest hospital in Australia and has seen a number of redevelopments to make it a modern facility. It has been joined by smaller hospitals and facilities over the years. It is also linked to the University of Sydney for teaching purposes.
New South Wales Attractions
a masterpiece of 20th century architecture
Sydney Opera House
Sydney Opera House is one of the most iconic buildings in the world and hosts a range of shows and exhibitions throughout the year. The Opera House was formally opened in 1973 and follows a design by Danish architect Jorn Utzon. Today, it operates as a multi-purpose venue with operas, plays and concerts all held there.
Living
$2,900
monthly rental price for a two bedroom house
New South Wales is one of the more expensive States in Australia, especially if you choose to be in or around the capital of Sydney – but the salaries in this area are designed to take into account this extra cost.
Employment
$1,200
Average Gross
weekly earnings
39
Average Hours
worked Weekly
New South Wales has a thriving IT sector, with more than 100,000 people employed in the industry in this State alone. Opportunities are expected to increase as the economy and business grow but this is also the case in the mining industry, finance sector, healthcare, engineering and trade industries, all of which make New South Wales a popular choice for migrants with the right skills.
Latest Emigration News
New Zealand requires negative Covid test for UK travellers
Read article