Live in Wellington
Labelled the "Coolest little capital in the world" Wellington is a city full of charisma and charm. In 2011, Lonely Planet ranked it the world's 4th top city to visit and it's not hard to see why – whether you're taking a stroll across Mount Victoria or through the Wellington Botanic Garden, there are breathtaking sights and scenery at every turn.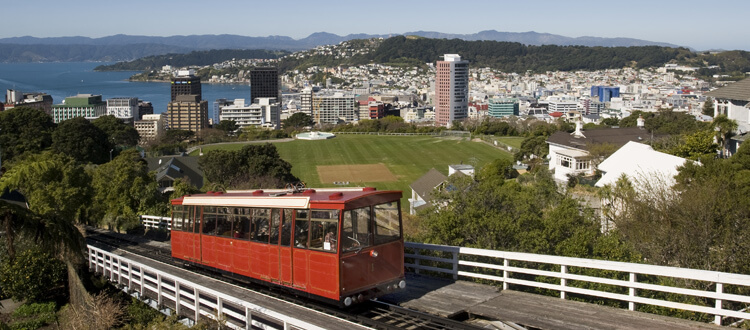 wellington cable car
Botanic Garden
Arts
Wellington is a city engulfed in culture, from theatres and museums to great film locations and live events. Visit Te Papa for an interactive experience all about New Zealand or head for some stunning stage productions and shows at Embassy Theatre, BATS Theatre or something more impromptu at Wellington Playback.
Dining
There's plenty of choice in Wellington when it comes to dining and one you should not miss is the Crab Shack! Taking advantage of the capital's location on the harbour, this is seafood you won't forget. Take a stroll down Cuba Street to uncover some of the best cafes, bars and restaurants in the city, with a particular favourite being the Logan Brown Restaurant showcasing the best of New Zealand cuisine throughout the year.
Festivals & Events
There's always something new to do in Wellington, with the biennial New Zealand Festival giving you a taste of what the country has to offer. The Jim Beam Homegrown Festival celebrates local music while you can sample some of the best food in the world during the Cuba Street Festival. Beervana takes place in the latter half of the year and the Wellington Sky Show is not to be missed.
Wellington Attractions
vantage points with spectacular views
Makara Track
If you want to explore the countryside then the Makara Track is a great option. This six kilometre loop which starts and ends at Makara beach has some of the best views in the area, covering the country and coast at different points as well as passing historical sites along the way.
A work - life balance
Wellington offers a great work life balance, with strong employment opportunities and wages balanced out with quirky cafes and a vibrant harbour lifestyle. So when you've knocked off work for the day, why not relax and take in the sights by tucking into great food at one of the city's Michelin Star Restaurants.
Education
6-17
Education is compulsory for everyone between the ages of 6 and 17
New Zealand has been recognised by the Legatum Prosperity Index as having the best education system in the world. The Victoria University of Wellington offers excellent courses in disciplines including law, humanities and sciences, while Massey University has excellent business courses and boasts the largest student body in NZ, with many being distance learning students.
Wellington Attractions
a wealth of learning
Te Papa
You will find Te Papa, the National Museum of New Zealand, in the centre of Wellington. It is full of interactive displays and exhibitions that will guide you through New Zealand's culture and history. A great insight for new residents looking to immerse themselves in New Zealand's past.
Wellington is growing at a fast pace, with education, ICT, research and trade sector skills all constantly in demand. The city's hospitality and tourism industry is also starting to grow with more people discovering Wellington as a great holiday destination.
Employment
$900
Average Gross
weekly earnings
39
Average Hours
worked Weekly
Latest Emigration News
New Zealand requires negative Covid test for UK travellers
Read article