Live in Hamilton
Currently the third fastest growing urban area in New Zealand, Hamilton is certainly a city on the rise. Originally an agricultural hub, Hamilton today offers a broad range of job opportunities with education and research and development among the largest job providers. Set on the banks of the Waikato River, the city is also famous for its water sports which include jet boating, canoeing and parasailing.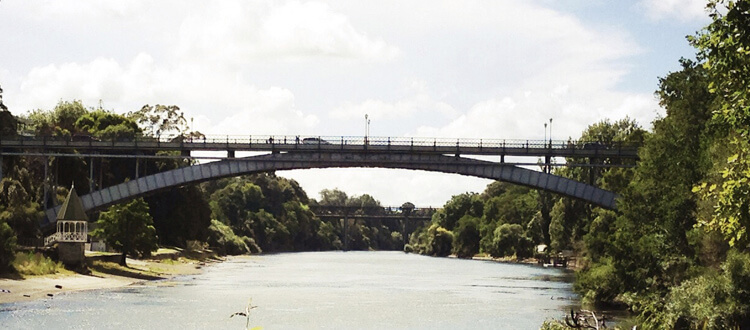 river waikato
victoria bridge
The Great Outdoors
There are so many places to explore around Hamilton, including Waitomo Glowworm Caves and Hobbiton village movie set. You can spend plenty of time exploring along the Waikato River banks or do so in style with a cruise on the river itself. This is the longest river in New Zealand and runs through the heart of Hamilton itself.
Arts
From the Hamilton Gardens to Waikato Museum, the city has something for everyone. Embrace the culture and history of Hamilton and New Zealand with fantastic walks and exhibits to entertain and inform the whole family. ArtsPost Galleries, the Classic Car Museum and Hamilton Zoo are also great days out if you are looking to immerse yourself in the city's heritage and culture.
Dining
There's a great range of food and cuisine from around the world in Hamilton, and there are strong Asian influences similar to the rest of the country. A very popular choice is Zealong Camellia Tea House, which specialises in desserts and Asian fusion cuisine, while overlooking the country's only tea plantation. Alternately, you can discover something new in Chefs International Café & Restaurant, which is famous for a range of cooking styles.
Hamilton Attractions
over two million years old
Waitomo Caves
An underground labyrinth of caves, rivers and streams, the Waitomo Caves are magnificent in stature and offer you the chance to explore a naturally formed current of water. Believed to be over two million years old, today the Waitomo Caves are one of the country's most popular tourist attractions and are also home to the famous Waitomo Glowworms.
A work - life balance
Hamilton has the perfect balance between work and pleasure, thanks to an array of restaurants and attractions that include cruises along the Waikato River, cinemas, theatres and local events, including conventions and live acts from comedians and musicians at the Claudelands Arena and the Founders Theatre.
Education
6-16yrs
Education is compulsory for everyone between the ages of 6 and 16
5-19yrs
Education is available from 5 through to 19
New Zealand has been recognised by the Legatum Prosperity Index as having the best education system in the world which is why thousands of international students head there each year. The University of Waikato is the most well-known University in the area and is in the top 50 universities in world under 50 years old. The university has received numerous awards and accreditations, especially in the business, management and engineering disciplines.
Health
Hamilton is home to a number of healthcare options for residents, both private and public. Waikato Hospital is the first choice for many residents but there are two private hospitals in the same area. On the other side of the city the Southern Cross Hospital helps to ensure that you are never far away from medical treatment.
Hamilton Attractions
discover the real middle-earth
Hobbiton
For fans of Tolkien and Peter Jackson, Hobbiton is a must visit! The Shire has been in the spotlight for years and many people travel across the world specifically to see the place where the beautiful and iconic scenes were shot. This is the best way to get as close as possible to a huge part of filming history – for an adventure you will never forget.
Living
$1,750
monthly rental price for a two bedroom house
Living in Hamilton is generally more affordable than other major areas of New Zealand, especially if you compare it to the likes of Auckland. So if you are looking for a slightly more rural lifestyle in a fast-growing area of New Zealand, Hamilton could offer you some great migration opportunities.
Employment
$850
Average Gross
weekly earnings
38
Average Hours
worked Weekly
Agriculture and mining play a big part in Hamilton's economy, with an abundance of jobs in both industries that offer excellent career progression and new challenges. The demand for specialist skills within these sectors, especially in various engineering roles, is set to increase with the growth of the area.
Latest Emigration News
Australia - Skilled Visa Update
New Visa Year starts 1st July.
Read article