Live in Auckland
A diverse culture and strong economy make Auckland a popular choice for new migrants. The city offers a wide range of job opportunities across the finance and business sectors as many large international corporations call this city home. A laid back lifestyle and temperate climate make for great living conditions, and when combined with great education and healthcare this city can be a great option for professionals and families alike.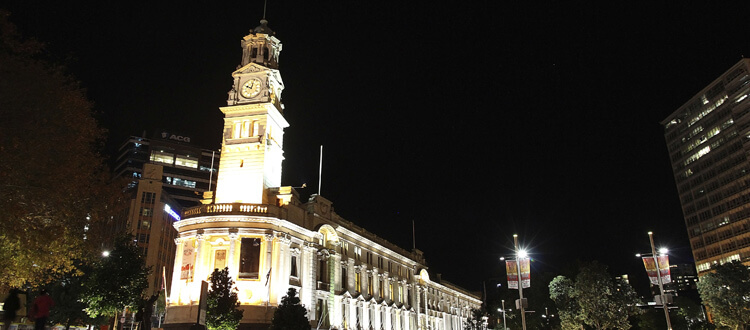 Downtown
Auckland Town Hall
Beaches
There are plenty of beaches to enjoy around Auckland, including the popular Hauraki Gulf. You can relax on golden sand, swim and surf in the cool blue sea and explore the small islands to your heart's content. Over on the West Auckland side there are black sand beaches which combine a rugged beauty with some wild waves – ideal for surfers or walkers alike.
Wineries
New Zealand wine is popular around the world and the wineries of Auckland certainly live up to this reputation. The climate in south Auckland produces some great full-bodied red wines, while the west is home to some of the country's oldest wineries including Babich and Delegat's. Whether you're a merlot drinker or more partial to a Chardonnay, with over 100 vineyards and wineries across the region, you'll be spoilt for choice.
Dining
Auckland offers some great dining options and if it's a Kiwi speciality that you're after then why not try The Grove, a multi-award winning Michelin starred restaurant set in the heart of the city where you can complement your meal with a wine from 250 choices. Or why not take in the breathtaking views at the top of SkyCity Auckland in the famous Orbit 360 restaurant and brasserie.
Auckland Attractions
breathtaking views in every direction
Skycity Auckland
The Auckland Sky Tower is the tallest free-standing building in the Southern Hemisphere and is open for visitors daily. With three observation levels and a revolving restaurant, this view is not to be missed. If that's not enough, tour groups are available to climb the top mast and around the exterior of the tower - and if you're really after adventure, consider a cable guided jump!
A Work-Life Balance
With a great climate, beaches, parks and a thriving city centre Auckland won't leave you short of after-work activities. The city offers the perfect combination between great employment and a relaxed pace of life – and according to an Immigration New Zealand survey, 88% of migrants said that after their first year in New Zealand this relaxed pace of life was one of the aspects they enjoyed the most.
Education
6-16yrs
Education is compulsory for everyone between the ages of 6 and 16
5–19yrs
Education is available from 5 through to 19
New Zealand has been recognised by the Legatum Prosperity Index as having the best education system in the world which is why thousands of international students head there each year. The University of Auckland is NZ's premier university.
Health
Healthcare across New Zealand is heavily subsidised by the Government and this ensures that affordable healthcare is available to every resident. In addition, there are a range of additional services within the community including Healthcare NZ which operates across Auckland to offer community-based health and disability support.
Auckland Attractions
breathtaking views over the Pacific Ocean
Hauraki Gulf and Islands
The Hauraki Gulf and Islands have something for everyone – from surfing, swimming and diving to beaches, volcanoes and more. Most of the Gulf is protected by the Hauraki Gulf Marine Park to ensure the area remains as natural and beautiful as possible – making it a great option if you are looking for that piece of untouched wilderness that New Zealand is so famous for.
Living
$2,200
monthly rental price for a two bedroom house
Housing in Auckland may be slightly more expensive that the rest of the country, however the salaries in the city match this additional cost. In contrast, public transport and transportation in general is quite cheap and cost-effective, with the city operating an efficient bus, train and ferry service.
Employment
$900
Average Gross
weekly earnings
40
Average Hours
worked Weekly
Auckland is both the financial capital and also the largest city in New Zealand, making it a great place to be if you work in the business or finance industries. In addition to finance, other major industries include retail, hospitality and ICT, all of which offer excellent opportunities for growth and development.
Latest Emigration News
New Zealand requires negative Covid test for UK travellers
Read article